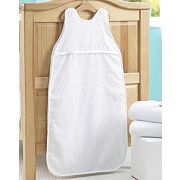 Sleeping bag
Budget: Clair-de-lune Broderie Anglaise 0-6 months £13.50

Why we love it: the embroidered outer and soft, fleecy inside lining. And it's machine washable to boot.
Luxury buy: Bed-e-Byes Bramble & Smudge sleeping bag 6-18 months £24.99

Why we love it: It features faux leather detail, soft cord and large embroideries all piped with linen mix making it so stylish yet comfortable for baby.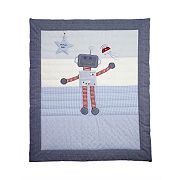 Bedding
Budget: Boots Essentials Fitted Cot Sheet £6.40

Why we love it: A good-value basic for the nursery and comes in a twin pack for added value.
Luxury buy: Koto Little Robot Quilt £29.99

Why we love it: A beautifully embellished quilt with hand quilting detail featuring Little Robot. A delightful addition to any little boy's nursery.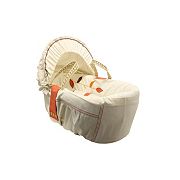 Moses basket
Budget: Clair de Lune Broderie Anglaise moses basket £29.99

Why we love it: A great budget buy with a fresh, neutral design – fits easily into any nursery,
Luxury buy: Mamas & Papas Hodge Podge moses basket £89.00

Why we love it: Designed with exceptional attention to detail and comes with mini coverlet quilt. Rocking Moses Basket stand available separately.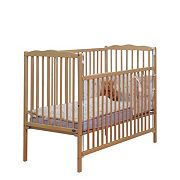 Cots
Budget: Saplings Jessica Cot natural £109.00

Why we love it: A simple design with fine, all round spindles, drop side, and two position mattress base heights – great value for your money.
Luxury buy: Cosatto Close To Me Bedside Cot £229.99

Why we love it: This is a great design which allows you to be close to your newborn all night. It's extremely handy for nighttime feeds and is multi-functional since it can be used as either a freestanding cot or in bedside mode.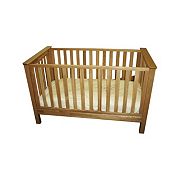 Cot beds
Budget: East Coast Angelina Cot Bed antique £129.99

Why we love it: It has three base heights so the cot can grow safely with your baby until they are ready to move to a bed.
Luxury buy: Saplings Fiona Cot Bed Oak £549.00

Why we love it: A beautifully crafted solid cot bed which converts easily into a junior bed when ready with a separate solid head and footboard.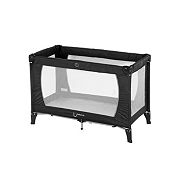 Travel cot
Budget: Babyway Travel Cot blue & green £39.99

Why we love it: Comes complete with a mattress and carry bag. This great value travel cot is quick to assemble and is also suitable for use as a playpen.
Luxury buy: Graco Contour Storage Travel Cot graffix £129.99

Why we love it: A top of the range travel cot which provides all of the comfort of a permanent cot plus a few added extras. It's quick to put up or down and comes with its own case on wheels – your own portable nursery!
Read more like this:
Nursery Buys for Every Budget – Accessories

Related Categories:
Nursery
Mother & Baby