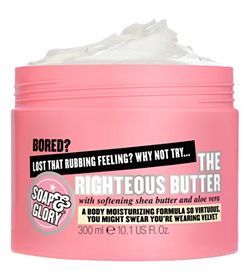 Insider secret number one
I find scents really inspiring so it's no surprise that they are the cornerstone of my business. I've always loved rose and bergamot, and that's why I used them in Soap & Glory The Righteous Butter Body Butter, and Soap & Glory Clean On Me Creamy Clarifying Shower Gel, which were in our original launch line-up in 2006. I still keep fresh flowers on my desk in my London office... tulips are my favorite.
Insider secret number two
Walking my sons to school gets my creativity going. I fit in taking Louis, six, and Raphael, four, to school every morning before getting to the office for about 8.45. It gives me a much-needed blast of fresh air, clears my head and provides me with a real feel-good boost at the start of the day.
Insider secret number three
Receiving positive letters from people who buy my products is very motivating. Only weeks after launching FitFlop footwear in 2007 I started to receive hundreds of letters from women who felt fitter after wearing them, which was incredible. My celebrity inspiration is actress and style icon Katharine Hepburn, because she always looked so powerful and confident. And Thierry, my husband, can always be relied on for his honest opinion, which I value. He helps me trial all the lotions and potions in our bathroom for Soap & Glory For Men.
Insider secret number four
I still keep a diary. It's a tan leather one from Barneys department store in New York.
I write everything in it and glue in interesting cuttings, business cards and thank-you notes. My office walls are covered with cork so I can easily pin up inspiring clippings, pictures and notes.
Insider secret number five
Saint-Remy de Provence, a stunning area in the south of France, really inspires me – the sights, smells and sounds. In the spring we often take a family holiday at our home there. I feel so lucky to have it; that luxury is quite a contrast to when I was starting out in the beauty industry in New York and didn't have much money at all. Saint-Remy is where van Gogh painted his Sunflowers masterpiece, so I'm clearly not the only one who loves it!
More great secrets from Marcia
To get my creativity going in the morning I have a snappy, "stand up" meeting with my team in which we keep each other up to date with all the office goings on and share any good news or challenges.
I always have my eyes and ears open for packaging ideas. I add humour to it because I think it's important to remember, "beauty absolutely matters, but it doesn't matter absolutely". To get ideas we brainstorm at headquarters and surf the net looking for phrases we can 'modify'. I think women buy Soap & Glory because it gives them a good laugh and I hope they'll realise that there's more to life than worrying about your fine lines.
'Everything is my choice' is my personal mantra. It motivates me. Try it, it's pretty empowering.
I'm inspired by the great products that I think deliver. I love Maybelline's Great Lash Mascara. It's a workhorse of a mascara and I've never had a single tube that's disappointed me. Without mascara, I feel like no amount of caffeine or cold water will wake up my face.
Time off boosts my creativity. My kids are really my 'me' time. I look at them as my fun and entertainment. I could also lie on the floor for hours listening to good music.
Read more like this:
Marcia Kilgore
Marcia Kilgore expert profile

Related categories:
Soap & Glory
Skin care
FitFlop
Soap & Glory For Men