Val Garland: Make-up Supremo
The doyenne of make-up, when show veteran Val's not making up models for the cover of Vogue and helping influence the cosmetics we covet (she's Artistic Makeup Advisor for Yves Saint Laurent Beaute), she's a regular fashion week fixture, creating the looks backstage that shape the trends we love to follow.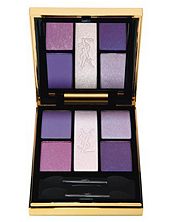 Which trend are you most excited about for autumn 2008?
Its all about a bit of drama this season - bright colour is the new black. The eyes have it in a seamless array of smouldering jewelled tones. There's power in contrast - think Bianca Jagger at Studio 54. Mix a heady midnight blue with a stroke of rich burgundy and a sweep of black close to the lash line – try the fab new YSL Five Colour Eye Palettes for a modern take on the classic smoky eye.

What's your ultimate beauty tip?
Carry three things with you at all times - eyelash curlers and mascara for a wide awake eye, and lipgloss for a moist mouth because a chapped, dry pout is never sexy.

How do you survive fashion week?
Lots of sleep when I can get it, P.G Tips, and I have an incredible agent and 1st assistant, so its all about delegate, delegate, delegate.

What are your can't-work-the-shows-without products?

Tweezerman Tweezers
JElizabeth Arden 8 Hour Cream
Rimmel Soft Khol Kajal Eye Pencil
Boujois Rouge High Tech Lipstick

2009 Trend Tip-off Alert!
For Spring 09 think subtle shades in pastel tones with velvet textures - Rothko inspired washes in contrasting  ice-cream colours. The lip legend continues- it all about the simple sexiness of a tangerine dream.
Marian Newman: The Nail Pro
Vogue cover shoots, fashion ads and A-list manicures are all in a day's work for super Nail-ister Marian, who regularly works her magic on models backstage at the shows (even creating a Fashion Week Colours collection with Nails Inc) and frequently tends to the nail needs of Hollywood's elite.

Which autumn nail trend are you most excited about?
I love the fact that nails are 'dark and interesting' this season. Many shows wanted this look. My tip for wearing this trend is to find a dark nail colour that contains a hint of the colour in your outfit. Chanel Rouge Noir is an example but Nails Inc have a dark, dark green, Fitzharding Street, designed for the Paul Costello show, and a pewter with a hint of amethyst, 80 Fulham Road, designed for Amanda Wakeley's show, within their London Fashion Week collection.

What is your ultimate nail tip?
My best ever tip is to use a good nail oil such as the Nails Inc Oil Slick Pens and keep the skin around the nails looking good.

How do you survive Fashion Week?
With difficulty! Knowing it will stop soon is what keeps me going! Actually, I have a great team that do a fabulous job and an amazing booker who organises my movements to perfection.

What are your can't-work-the-shows-without products?
A fast polish remover without conditioners (these leave a film on the nail which can prevent a good re-polish) plus Nails Inc Albert Bridge Top Coat which is the fastest and glossiest!
James Brown: Super Hair Stylist
As Kate Moss' best pal and right-hand hair man, you'll spy James' tousled trademark touch of effortless cool on a bevy of the hottest red carpet names, from Sienna Miller to SJP. A fashion week pro, past shows to benefit from his star touch include Donna Karen, Gucci, Calvin Klein and Chanel.
Which A/W hair trend are you most excited about?
Plaits – very messy, child-like plaits which perfectly compliment both the folk trend and gothic/glamour for autumn/winter 2008. Great on day-old hair, create a middle-parting and plait hair on either side of the head from the ear down. Keep in overnight, and the next morning pin both plaits randomly at the base of the neck, tucking in the ends over each other.
What is your ultimate hair tip?
I never spray hairspray directly onto the hair - I spray into onto the tips of my fingers and rub it into the scalp where I want to create volume. To smooth hair, spray onto the palm of your hand, rub together and then use your hands as tools to smooth flyaways down the hair. Simplicity is key – I'm not a fan of over-styling, especially if you're going for glamour in the evening. Simple, understated hair is the perfect contrast to a gorgeous, glamorous dress.
How do you survive Fashion Week?
James Brown London Hairspray – my kit is never without it because it's the one product that can finish, smooth and create volume.
Read more like this:
The Experts' Beauty Secrets: James Brown