My skin - up close and personal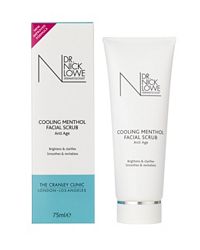 30th September
One of the great perks of my job is meeting the world's best make-up artists, hair stylists and skincare experts. But when you're shy about the state of your skin, chatting to a dermatologist at an event can feel like a silent consultation - part of me is always very curious about what's going through their mind.
So last week I went to see dermatologist Dr Nick Lowe for a consultation. With clinics in London and California he's one of the most respected derms in the industry. I like the fact he tells it like it is, relegating the latest 'dream cream' to 'bog-standard moisturiser' status in the time it takes to read the ingredient list on the packaging. This is both refreshing (useful for features) and, now that I'm meeting him to talk about my skin, a little scary.
But I needn't have worried. Dr Lowe is lovely; reassuringly honest, yet not remotely brutal. My skin's plus points: I have a good profile, no wrinkles around my lips and my neck and chest have minimal sun damage. Other points: I've got early damage to the collagen and elastin below the inner eye corner area. I'm a 'candidate for Botox' to prevent my brow area drooping. Interestingly, the right side of my face is more sun damaged than the left - possibly, we calculated, because I'd worked with my right side next to a big window.
Suggested Advice:
I'm sticking to the product route for now and will let you know how I get on. In the meantime, here are some nuggets of beauty info from my meeting:
UV penetrates glass to damage skin - Yes, even indoors, or when you're driving your car. 'Truck drivers in America have more sun damage on the left side of their faces than the right because of UV penetration, whilst truck drivers in the UK have more sun damage on the right side of their face,' says Dr Lowe.
Apply SPF before moisturiser - 'UV protection should be the first thing you put on your skin,' says Dr Lowe. Put it on before your moisturiser, otherwise it will dilute its protective properties.
RIP Glamazon
29th September
I'm usually the one doling out advice to bereft beauty addicts mourning the loss of their favourite beauty goodies, but now one of my all-time favourite beauty products, Glamazon, my go-to, glow-giving liquid bronzer, is heading to the beauty grave yard.
I'm already panicking - should I buy in bulk now? I've been using the dark brown liquid (which you paint onto skin and blend) for years, almost daily. It transforms my jaded skin into tanned- with-a-rosy-glow without tangoeing it, giving by far the most natural-looking result of any bronze-giver I've tried. And I've tried loads.
Sure, it could easily be mistaken for a bottle of dark nail polish and, yes, it's tricky to reach the liquid at the bottom when it's nearly empty - I have, on occasion, resorted to tipping it on to my face from the bottle, at one point triggering a spillage incident involving a pair of Seven jeans and a Claridges beauty breakfast - but the natural, tanned result is priceless.
So I am stockpiling supplies.
Let the search for a substitute begin...
Waste Not, Want Not.
28th September
Over the years, you can imagine the number of face moisturisers I've accumulated. No doubt you're the same, as finding the right moisturiser can sometimes be a lottery. Some go straight to my guinea pigs to test. Others, that I've tested but have found to be too rich for my skin, have been passed on to family who don't mind that my (clean) fingers have been in the pot. But there are only so many face products my mum can inherit, so what of the rest of the opened pots? I've started using them on my neck, chest and hands, the areas that I find can take a heavier moisturiser.
It's not rocket science, but it certainly beats wasting them.
Epilators: Ouch with Results
27th September
For me, hair removal is a necessary evil. Since moving back up north I've yet to find the time to search for a great waxer, so I've been continuing to shave. But the freakish speed it takes for my underarm hair to grow (apologies, readers) is seriously trying my patience, so I've been trialling Braun's Silk Epil Xpressive epilator. It's designed to whip off the hair from the root as you roll it over the hair, thus putting paid to every other day shaving. I've had my underarms waxed countless times in the past from 10am - 7pm.
Phew.
Truly hardcore beauty addicts can get a foot fix in London then jump on a train to Sheffield for some Moss-style magic. (If any of you are crazy enough to actually do this, please let me know!)
Meet Kate Moss's Hairdresser
25th September
Envy Kate Moss's always effortless hair? Me too. It never looks 'done', does it? Anyway, I bring good news; if you're planning to be in Sheffield on the 27th September (this Saturday) hotfoot it down to the Boots store at Meadowhall for the chance to chat to the man responsible for all those effortless styles: James Brown. In person.
Fresh from Fashion Week (where we spotted him at all the cool parties), James will be on the road to celebrate Boots' 30 Days of Fashion & Beauty event. He'll be at the Boots store in Meadowhall on the 27th from 12pm-4pm to offer his expert advice on most things hair - from styling hints and tips to flattering hair colour recommendations and the perfect cut for your face shape.
As if that's not enough to tempt you, he'll throw in a mini Hair Reviving Dry Shampoo, free to boots.com readers. No need to book, just turn up.
Race you to the front of the queue...
Green Goddesses
24th September
I've been reading the wonderful Green Beauty Bible by renowned beauty journalists and authors Sarah Stacey and Josephine Fairley. Packed full of every detail you need to know about 'green' beauty, there are plenty of wonderful tips, a few DIY recipes and loads of product reviews from their independent panel of testers. Here are a few worth sharing:
Origins Spot Remover: 7.66/10 (top in its section)
Comment: 'Within a few hours of applying to a large whitehead, it had reduced significantly in size; eight hours later I could hardly see it; after another application 24 hours later, I could only see a dry dark mark; but you do have to be careful only to put it on the blemish, as it can cause peeling.'
REN Wild Yam Body Repair Cream - score: 9/10
Comment: 'Instantly absorbed, dry areas disappeared and my skin felt as smooth as velvet.'
Trilogy Cream Cleanser: score: 8.7/10
Comment: 'Perfect texture - creamy-rich but not greasy or too thick; easy to dispense and removed every last trace of make-up, including water-proof eye make-up. Skin felt very moisturised.'
Korres Guava Body Butter. Score 8.77/10
Comment: 'Thick, luxurious cream, which absorbed quicker than any butter I've tried before - made skin smooth and healthy looking - brilliant stuff!'
This Works Deep Calm Bath and Shower Oil - score 8.44/10
Comment: 'before: I felt tired, preoccupied; after: I was relaxed, untroubled!'
Beauty Hoarding
23rd September
Do you have a secret stash of beauty product you're saving 'for best' or a collection of beautiful, limited edition compacts you can't bear to 'ruin' by sticking your fingers in them? Thanks to my job, I have plenty of beauty products dotted around the house. Plus I'm a massive beauty hoarder. Note the photo evidence of my limited edition cosmetics buys - I have Chanel cosmetics circa 2006... Tom Ford for Estee Lauder...YSL compacts that are several years old. So pretty.
A word of caution though; don't make the same mistake as me and pack away your skin, body and bath goodies for too long. I was saving a whole box of mine, but on a recent check I sniffed a few. The smell was a little off. The fig body crème definitely did not smell of figs. The formulations had separated. The bath oil appeared cloudy.
Admittedly I'd had these packaged away for a few years (I know, I know), but it's still a lesson. For best results, store away from heat and light and remember that products which contain no chemical preservatives have a shorter shelf life. Most skin and body preparations now display (in months) on the packaging how long you can keep them before they're past their best.
So don't wait. Enjoy them now!
Lavender - Not Just for Old Ladies
22nd September
Lavender: does it make you think of your grandmother? I admit, it has a fusty old reputation, but I'm really taken with it at the moment. I've been adding a few drops of essential oil to my pillow and it's become a bit of a relaxation ritual. Deep considered breaths. Loosening of shoulders. Ahhhhh.
To fuel my new obsession, I've also been hunting out lavender-esque beauty products to try. Here are two I like:
Ole Henriksen Lavender Body Oil.Scented gently, not overwhelmingly, with lavender. For moisturising benefits, it's best to use this blend of sesame, almond and lavender oils at night after a shower or bath as it doesn't absorb immediately, but if you're going out and plan to reveal some skin, it's a winner. Think easy, glistening skin. Plus because of the great 'slip' of the oil, it makes for a wonderful massage oil too.
Elle MacPherson The Body Bath and Body OilVery subtly scented; you hardly notice the lavender. Unusually for a dual purpose oil (it's also intended for the bath) it comes in spray form, so it's super-easy for applying to the body (you can unscrew the top to decant into a bath). It's more of a dry oil texture, which wins brownie points for low grease levels. After rubbing in, I was straight on the laptop to write this review - without de-greasing hands.
Non-beauty Posting Alert.
21st September
Do you have a secret fall-back remedy for when you're feeling run-down or stressed? I know a PR who works early hours and late nights in the hospitality industry and still manages to look perky. She swears by Metatone Original Flavour Tonic and has even introduced her grandmother to it! My must-have is Berocca - yes, the orange-flavoured effervescent tablet that most people refer to as a hangover cure. Since I started taking it over three years ago I haven't suffered a cold sore outbreak (I used to get them every time I was tired and rundown) - touch wood. Meanwhile if I'm looking run-down, it's all St Tropez self tan, concealer and eyelash curlers all the way. Unless I want to scare small children!
Incidentally, if you want a quick energising fix that won't cost you anything, try this tip from Sarah Stacey and Josephine Fairley's Green Beauty Bible:

'Three quick energisers: rub the rims and lobes of your ears with your thumb and forefinger; rub and pull your fingers, especially the joints; massage your second little toes, which are linked to the liver. May sound strange but it all works!'
I want what they're having...
20th September
A quick scan of US beauty bible Allure and I've spotted a handful of exciting new products: Olay Thermal Pedicure, a self-heating exfoliating foot treatment, Almay Smart Shade Blush, an 'intelligent' cream blusher that 'instantly transforms into your ideal shade' and L'Oreal Paris Couleur Experte Express, a home hair highlighting system that comes with its own cool highlighting tool (looks like furry straightening irons).
The bad news? They're not available here (grumble). There's nothing like inaccessibility to make a product irresistible, hey?
There?s some good news though, I've found one new product that will be winging its way over the pond to us: Revlon Beyond Natural Skin Matching Make-up, a range of foundation that goes on white and 'self-adjusts' to match your natural skin tone. Another addition to the 'intelligent' beauty products trend. You'll have to wait until February for this to hit UK shores, but something tells me it will be worth the wait.
Watch this space!
Ionic Hairdryers - the Usain Bolt of the hairdryer world?
19th September
I've just had my speediest home hair dry ever! From damp to dry in 6 minutes, 22 seconds - I timed it. Not bad going for my long (below bust length) hair. Could it be the 'ionic' effect? (I'm using Toni & Guy's new 2000w Retro dryer, which uses ionic technology). I'm pretty sure it is. Here's the science: ionic hair dryers emit negative ions (all safe, don't panic) which attach themselves to the positively charged wet hair, reducing the moisture and size of water droplets, therefore cutting drying time. It doesn't affect the hairdrying process in any way - no unusual noises, no smell, it doesn't feel different - other than speeding up drying time. I've been using an ionic hair dryer for a few years now and I'm a convert. I really can tell the difference if I borrow a friend's or - heaven forbid - forget mine when travelling and have to make do with one of the pathetic hairdryers hotels offer.
This one from Toni & Guy also has tourmaline colour lock which is supposed to prevent coloured hair from fading so rapidly. As my hair isn't coloured, I can't comment, but I am impressed with the drying time and the shiny, soft-haired drying result.
To Hat - or not?
18th September
This year's runways are peppered with hats, so will you be working the trend? Are you a hat lover? From the beret at Zac Posen, to the wide rim hats and Trilbys at Miss Sixty, there are plenty to choose from. And don't let 'hat hair' stop you. Super-stylist Zoë Irwin once gave me a tip for preventing hat hair - keep hairspray in your bag and when you need to 'reshape' your hair, nip to the ladies bathroom, flick your head upside down, spray at the roots and blast your hair under the hand drier. And beware unlined wool. It's one of the worst culprits for static, post-hat frizz and flyaways.
Scale busting
17th September
It's ironic that my face is on the oily/combination side when my legs are desert-dry and lined like cracked mud on a hot day. Most body moisturisers I've tried (even the one that came in at £150 a pot) have never really delivered a serious, long-lasting solutions to my scales.
In an effort to solve the problem I've been testing the following:

Left leg (don't laugh): E45 Endless Moisture Body Cream for dry to very dry skin. On clocking the dry-to-very-dry skin label I assumed this cream would be thick and difficult to massage in, but how wrong I was. Bizarrely, it actually absorbs quicker than the Body Milk from the same range. I'm a fan of the smell - a mixture of baby lotion and suncream (although I'd dispute the 'Lightly Fragranced' tag; it smells inoffensively normal to me).

What I like: it doesn't leave hands sticky. It smells good. Skin is left looking shiny and plump. At £6.99 a little goes a long way.
Right leg: This Works Enjoy Really Rich Lotion
Mmmm, great smell - the formula has a raft of essential oils - eight in fact - including geranium, rose, patchouli and tuberose, and you can tell. It smells great. It's creamy and takes a little longer to work into the skin, but then, it is a 'really rich' lotion - my skin lapped it up.

What I like: Skin looks supple and hydrated immediately. Thirsty leg 'cracks' disappear straight away. It has heavy-weight essential oil extracts.