Only in America: drawn on abs
Tuesday 18th Nov
There have been some crazy 'six pack' related beauty trends over the last few years. Courtesy of - surprise - America (where else?). First there was the painful-sounding Ab 'etching' (a precision style of liposuction). Then the professional spray tan 'shading' technique (for the illusion of a six pack and a svelter silhouette) and now 'Abs in a Box'. Say what? It's a home kit that allows you to 'paint on' and shade your own abs, with a semi-permanent body stain. Once on it's apparently sweat and water-proof, so you can show off your new 'six pack' in the pool or the gym, or even create your own Daniel Craig-style Bond sea emergence. Only in America...
Hand cream part 2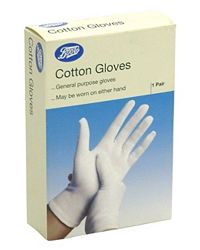 Saturday 15th Nov
Just a quickie - I forgot to include this tip in my last hand cream blog. It's an obvious one: if you can't stand to apply hand cream during the day but your hands are screaming out for some TLC, load them up at night. I do this whenever I remember. And for an intense treatment, slather on your favourite hand cream and pop on a pair of Cotton Gloves (from boots.com for £2.99) and leave on as long as possible. Day, night, it doesn't matter. Although it could be considered a questionable 'look' in the office. Unless your boss is used to you channelling the eighties-style Michael Jackson era...
Hand Cream Turnaround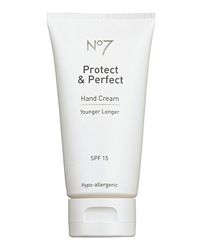 Friday 14th November
I've never been a hand cream fan. Possibly because I spend 10 hours a day at my laptop writing beauty features (and this blog!). Greasy, gunky hands all over my keyboard? I'll pass, thanks! Yet I know plenty of friends and beauty journalists who keep their trusty hand creams on their desks, in their cars, and in their handbags, primed and ready for action and regular applications. My reluctance to use them perhaps explains my grisly 'granny' hands which 'out' me as a hypocrite who aint following her own handcare beauty advice. So I decided to do something about it and put some hard-working hand creams to the test. Here are my favourites:
Dr LeWinns Restorative Hand & Nail Cream My favourite, with a wonderful spa-esque smell, it's rich and yet sinks in swiftly without stickiness. It contains shea butter and pearl extract, plus skin-friendly fruit acids.
Balance me Super Moisturising Handcream Thick and indulgent, a little goes a long way. Crammed with pure essential oils like geranium and lavender plus moisturising shea butter and sweet almond oil. Again, it won't leave hands greasy.
No 7 Protect & Perfect Hand Cream SPF15 The 'anti-ageing one'. Leaves skin with a slight pearlescent sheen. It's got the all-important SPF15 to help protect against future age and sun damage, plus it claims to help fade age spots, includes lipo-peptides and promises to reduce fine lines in 2 weeks.
Goodworks Good Intentions Hand Cream Feels creamy, smells delicious (that'll be the geranium and orange essential oils). Two minutes after applying, I'm tapping away on my keyboard without greasing it up. That'll be a good result, then.
Mineral make-up 101
Thursday 13th November
Mineral make-up is big news at the moment, but it's rather a grey area in terms of benefits and techniques so I grabbed L'Oreal's Paris' international make-up artist James Kaliardos for a quick Q&A. As I've previously mentioned, James created an almost solely mineral-based look at Julien MacDonald's spring 09 show. Far from an over-powdered result, the girls' skin simply looked beautiful; radiant as if lit from within. And there wasn't a cakey face in sight
.
Q: What do you like about mineral make up? what are the benefits? A: L'Oreal Paris Mineral make up is talc free, preservative free and skin-friendly. You get perfect coverage and a soft focused finish with Minerals which makes the skin look like it's been re-touched.
Q: Do minerals require a different application technique to standard powder formulas? A: Yes, standard powders are blotted on the face but with Mineral Powders you brush the product onto the face in small circular motions. The circular motions allow the pigments to build up gradually, delivering a radiantly flawless result.
Q: What's the biggest mistake you can make with mineral make up? A: Mineral make up is very fine so it's important to really tap off the excess from the brush before applying it to the face. You only need a minimal amount of product. Make sure you apply the product to a well moisturised face for an even finish.
Ruby and Millie: first stop for glamorous xmas buys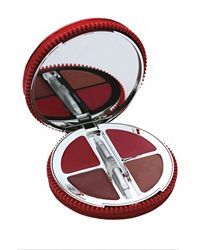 Wednesday 12th November
If you're an organised, early bird Christmas buyer who's already sniffing out the best gifts (if only for yourself), you'd do worse than to check out Ruby & Millie's latest offerings. They're fast becoming the go-to brand for gorgeous palettes. Check out this stylish lip kit (love the metallic red case - very festive) with nude, pink, red and plum lipgloss shades. Use the brush provided to use them separately or create your own mix of colours. Now, who wouldn't be happy to unwrap this on Christmas day?
P.S Can you tell that I'm working on my Christmas gift pages? Expect more recommendations in my beauty blog soon. (I'll try and show some restraint. Honest.)
Cold Weather must-have: the do-everything balm
Tuesday 11th November
Wow, the weather's really turned. I'm working the 'seven layers of clothing at once' look as I write this beauty blog (I kid you not) and it's not a particularly pretty one. And don't get me started on my skin. Any shred of radiance has packed its bags and headed off to sunnier climes. Then there's the chapped lips, frizzy hair, dry patches... help! "Winter skincare needn't be complicated," reassures Balance Me aromatherapist Sian Jones who is a big believer in multi-purpose balms. "Always have one to hand that you can use to deal with a whole host of winter skin issues, from dry cuticles, sore lips or windswept hair," she says. Her choice: Balance Me Stellar Beauty Balm . "I suffer from very sore lips and cold sores and I wouldn't go anywhere without it," she says.<
Solid perfume: the luxury space saver
846068
Saturday 8th November
Glass perfume bottles look beautiful and sophisticated on the dressing table, but could be deemed a health and safety hazard in a travel bag. (Case in point my poor mum who smashed a full bottle of her beloved Chanel No 5 recently. Steady there, mother). And what about the weight they add to a travel bag? Purse sprays are an option, but the chic alternative is a solid perfume. Compact, less weighty and with a rather glamorous old-school charm, they're a smart beauty buy that's great for travel and slip stylishly into a handbag or an evening clutch. The most desirable at the moment? The Stella In Two Solid Perfume and Yves Saint Laurent Elle Intense Solid Perfume. Both make beautiful gifts, too, if you're looking for something for your wish list. Sorry mum, they don't do a No 5 version...yet.
Hair Colour is Credit Crunch-proof
Friday 7th November
According to a US beauty blog post, while Americans are cutting down on their fashion buys, sales of home hair colorants are buzzing like nobody's business, with Proctor and Gamble revealing a 20% increase in sales of its Nice 'N Easy home hair colour kits. A shiny new dye job appears to be the perfect pick me up?providing you choose the right shade, of course! Here are some pearls of wisdom from Clairol's Creative Director, Sean Tetlow, on how to colour your hair at home, "efficiently, effectively and with the minimum of mess":
Keep an old towel specifically for using when colouring your hair to save spoiling good ones.
Make sure you have read and understood the manufacturer's instructions completely and follow them to the letter.
As in the salon, use a tail-comb to section your hair cleanly and a couple of sectioning clips to hold your hair out of the way as you apply colour to each section. This will help you gain full coverage, especially close to the root and avoid any 'missed bits'.
Use a timer or alarm clock to let you know exactly when the processing time is over. It is easy to be distracted and lose track of how long your colour has been on. If the colour is left on too long, this could result in damage to the condition of your hair. Not long enough, and the colour results will be disappointing.
Hands off my Peche De Vigne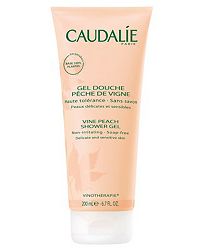 6th November
My shower is currently under 'one in, one out' house arrest as my boyfriend has finally reached the end of his tether regarding the number of products that trigger a domino rally effect every time he steps inside. (The final straw; my razor head becoming lodged in the waste pipe, thus sparking a 30 minute retrieval mission).
I have relented and removed the five shampoos and conditioners I haven't used once in the last 6 months, but have stuck to my guns about my Balance Me Super Wash and my favourite shower product ever: Caudalie Peche de Vigne Shower Gel , the most delicious peach-scented shower wash. Now, I ration this baby, so I was surprised to discover whilst clearing out the shower that the pack was nearly empty. Hmmm, I'll have to add to my Christmas list, I thought. A few days passed and next thing I knew, my man was exiting the shower. And what was that smell floating out from the shower room with him? Yep, the faint smell of ripe peaches. Boyfriend guilty as charged. His defence: he 'thought it was the cheap one'. I have since given him a new bottle of FCUK Sport Body Wash to use and he's been tasked with reporting back. I will be keeping my beady eye on my Peche de vigne in the meantime...mitts off, boyfriend.
Silver is the new gold
5th November
Last week, I was lucky enough to spend the afternoon playing detective at a Halloween murder mystery courtesy of Nivea for the press launch of their new Silver Protect range of men's Roll on and Aerosol deodorants. The Halloween link was silver which not only provides anti-bacterial properties but, don'tcha know, when made into a bullet can kill a werewolf (this blog is so educational). The silver ions within the formula 'incapacitate odour-forming micro-organisms to help prevent body odour from being produced', say the Nivea crew. It's not launching until January 2009, but I'll get my man to test and report back (on the deodorant, not the werewolf slaying).
Good Vibrations
4th November
So here I am, having just tried Lancôme's new vibrating mascara , Oscillation. After reading all the US press about it (it's had rave reviews from every beauty blog going) and hearing about the waiting lists on both sides of the Atlantic, I was very keen to try it. Were those 7000 vibrations-a-minute claims simply a marketing ploy, or did they really enhance the mascara 'experience'.
After curling my eyelashes and wiping the mascara wand with tissue to remove any excess (a practice I employ with all mascaras to help prevent clumps), I was ready to start testing.
To initiate the oscillation and start the motor you place your finger on a button at the top of the wand. Don't worry that you can't see the vibrations (I had to touch the wand against my hand to check it was working), if you can hear them, it's working. Technique-wise, I found the best way to apply was to slowly work from lash roots up without zigzagging (the vibrations mimic the zigzag for you).
Reserve judgement until your lashes are dry; at first I thought mine were clumpy, but now they've dried and I've separated a few they look thick, long and rather luscious. I LOVE the effect. It actually looks and feels like I?ve got false eyelashes on! I'm ashamed to say I've been so mesmerised by my new lashes that for the last half hour I've felt compelled to check them out every few minutes. Conclusion; fab result. Not just a gimmick, after all.
Found: the perfect smudgy black eyeliner
1st November
I'm really addicted to Clinique's Quickliner in Really Black (a recent discovery) at the moment. It's just perfect for creating a smudgy line - even for me, and I'm completely useless at applying eyeliner (it's true, I make a rather hopeless beauty editor). I use it to wiggle at my lashline from underneath and it provides a fantastic line of definition that can be gently rubbed in for a smoky line effect. It's like eyeliner for dummies. Which is why I love it.
To view my October blog click here
To view my September blog click here